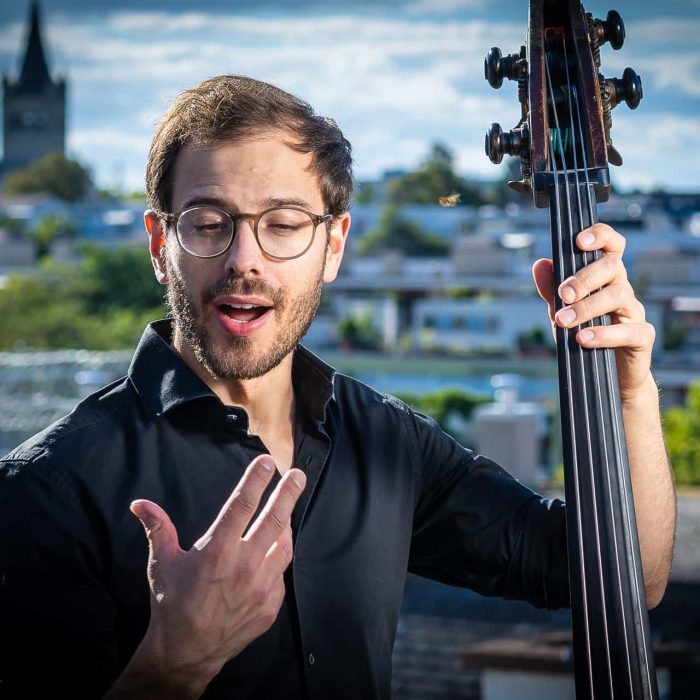 Justin DiCioccio (Manhattan school of Music, NYC) once said to me:
"To have a career in music, you must first have a life in music. Then, and only then, might you get the chance of having a career in music."
So that's what I set out to do…
With a burgeoning international career, Rafael Jerjen is a bass player, composer and educator. Currently based in Lucerne, he was educated in Australia (Bachelor of Music in Jazz Performance (Honours) at the Australian National University under bassist Eric Ajaye), the USA (New York with John Patitucci), Berlin, and Switzerland (Master of Arts in Jazz Performance at the University of Applied Sciences and Arts Lucerne with bassist, Heiri Kaenzig). Rafael also studied composition with renowned composer and big band leader, Ed Partyka.
Jerjen: Bassist, yet somewhat more!
– Ulfert Goeman, Jazz Podium
Performer/ Composer/ Arranger:
Active as a composer, arranger and bandleader, Rafael leads the Rafael Jerjen Concept and MaxMantis, and has toured extensively in South America, Australia and Europe.
His creative output has won awards and he has recorded and shared the stage with some of the biggest names in jazz in Europe, the USA and Australasia, including: Mike Moreno, Bill Cunliffe, Joe Labarbera, Bob McChesney, Bob Sheppard, Andy Sheppard, Jim Hart, Nelson Veras, VEIN, Nils Wogram, Gileno Santana, Michael Arbenz, Murmullo, Florian Arbenz – Convergence, David Tixier Trio, Matt McMahon, Kristen Berardi and the Ed Partyka Jazz Orchestra.
…an exceptionally proficient, versatile and up-front bass player.
– Nolan Quinn
A passionate educator, Rafael recently succeeded his former professor, Heiri Kaenzig, as lecturer for jazz bass at the Lucerne University of applied Sciences and Arts (HSLU) and has represented the HSLU at the renowned International Association of schools of Jazz (IASJ) run by Dave Liebmann.

As well as individual lessons Rafael leads ensembles and has worked with university students at Newpark Music Centre Dublin, University of Tasmania, Australian National University, Australian Institute, to name a few.


Jerjen is extremely dynamic, and has an incredible sound.…
– David Tixier
Rafael Jerjen rounds of his musical life by delving into the inner workings of "Groove" research at HSLU in Lucerne. As a research assistant and bass expert for Prof. Senn's "Groove Team", he spends his time in transit between concert venues transcribing some of the greatest bass lines of all time for the purposes of better understanding what makes us all want to move to music.
There's a real traditional solidity and confidence in his playing, … And there's sheer joy. 
2020
Freedman Jazz Award (Finalist), Australian Music Trust (AUS)
2019
Audience Award ZKB Jazz prise 2019 with trio MaxMantis (CH)
2017
National Emerging Jazz Composers Prize: composer-in-residence at the West Australian Youth Jazz Orchestra (AUS)
2015
Represented HSLU at the International Associations of Schools of Jazz (IASJ) (PRT)
2015
Hirschmann Stipendium (CH)
2014
Friedl-Wald Award (CH)
2013 
Masters of Arts (full scholarship): Performance degree at the Hochschule Luzern (CH)
2013 
Full scholarship for the Masters of Arts – Performance degree at the Hochschule Luzern.
2013
Keep an Eye on Summer Jazz workshop in Amsterdam (full scholarship) (NETH)
2012
JUMP mentorship with Grammy-winning pianist Bill Cunliffe (USA)